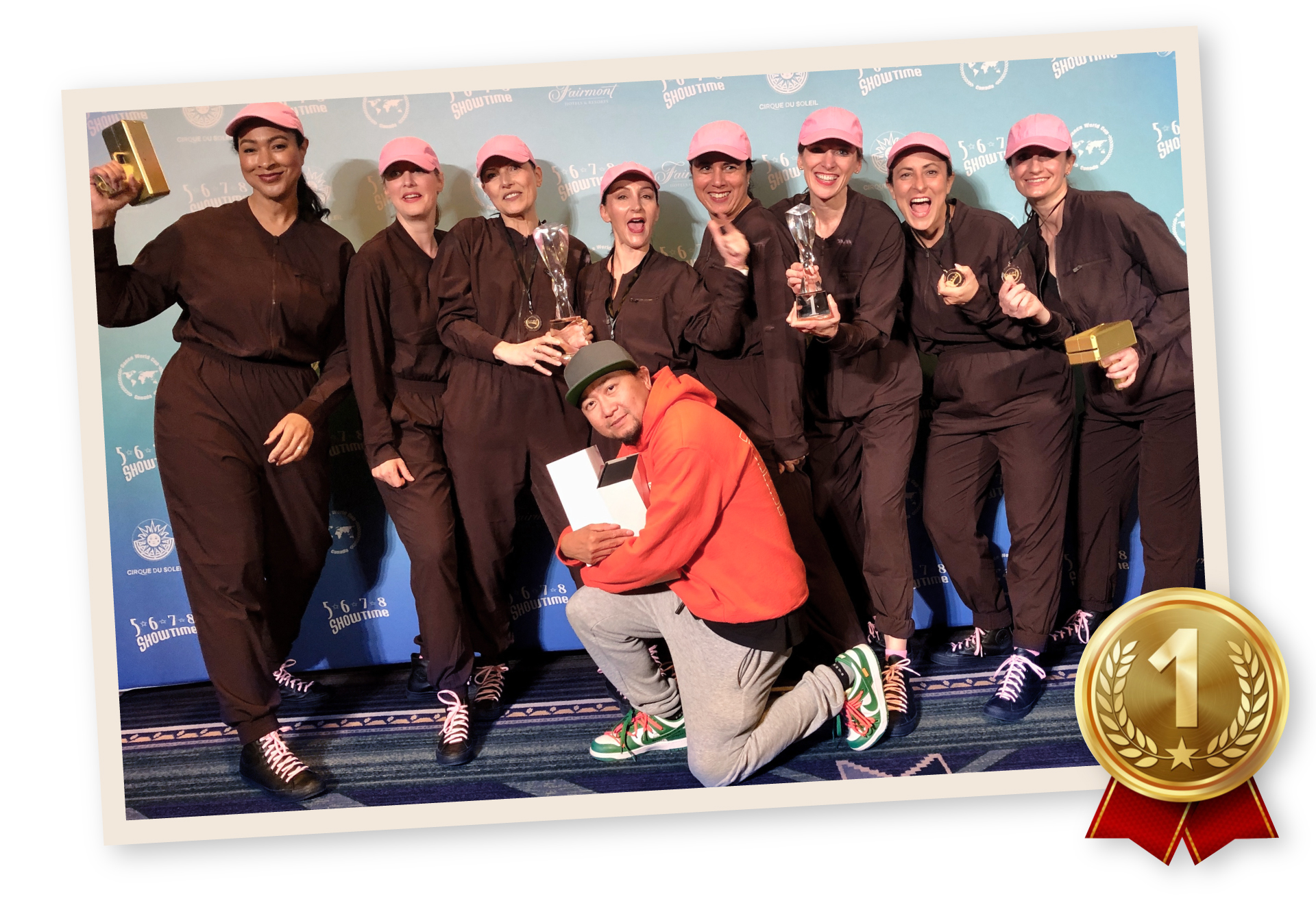 The "House" Wives of Hip Hop
.
Boogaloo Academy is home to The "House" Wives of Hip Hop! This award-winning adult competitive crew is all about joy and lots of laughs. They encourage new members to dance–no matter their ability or level–and are passionate about creating a safe space for others to express themselves and dance without judgment. 
This amazing group was formed in 2016 when they started dancing with choreographer and studio co-owner, Jheric Hizon. The name was inspired by a love of "house" music and hip hop dance. With Jheric's encouragement, in 2019 they entered various dance competitions in the adult street dance category, winning medals and continuing on to perform at the West Coast Women's Show and Victoria Women's Expo in early 2020. With dance classes cancelled during the pandemic, a few of the team took their dancing energy to TikTok, bringing the joy of dance and lots of laughs to others during an uncertain time. The team often dances on TikTok together and has tons of fun. Check them out @thehousewivesofhiphop!
Back on stage in 2022 with a whole lot of humour and enthusiasm, Jheric's incredible choreography, plus the leadership and passion of team managers Mirella and Alexa, the newly formed crew of 8 women won 1st place and 6th highest scoring team in the 5678 Showtime Whistler competition! They are now Regional champions in the 30+ Hip Hop category. We could not be more proud of their accomplishments!
AUDITIONS
If you love to dance, laugh and are not afraid of commitment, this crew might be for you! Bring your positive attitude, willingness to work hard and support others and be on the most fun adult team you'll find! Come dance and meet the team!
WHEN ➡️ TBA
WHERE ➡️ Boogaloo Academy #101–8410 Ontario Street, Vancouver BC
COST ➡️ Free!
WHO ➡️ 35+ adults. No professional dance training required.
QUESTIONS? Follow and send a DM on Instagram or email thehousewivesofhiphop@gmail.com
Add some joy to your feed with the "House" Wives on TikTok, Instagram and Facebook.